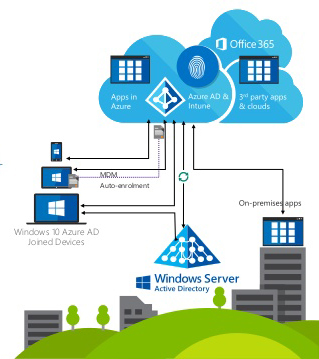 Recommended Approach to MD-100 and MD-101
Are you getting ready for the MD-100 and MD-101 exams? I highly recommend you study for both – and then take the exams back to back. There is plenty of carryover between the two exams just as we had in the last version of Windows 10 exams.
Windows 10: Manage and Protect
This latest part of MD-101 feautres fun looks at surrounding technologies like Windows Defender variations, Microsoft Azure Active Directory, and Microsoft Intune. You can find it here:
https://www.cbtnuggets.com/it-training/microsoft-windows-10-manage-protect-devices-md-101
Here is the Nugget lineup for this part.
1. Windows Defender Advanced Threat Protection
2. Windows Defender Credential Guard
3. Windows Defender Exploit Guard
4. Windows Defender Application Control
5. Windows Defender Application Guard
6. Introducing Azure AD
7. Understanding Azure AD Terminology
8. Understanding Azure AD Licenses
9. Device Management in Azure AD
10. Planning your Azure AD Join
11. Creating a Custom Domain in Azure AD
12. Creating Azure AD Users and Groups
13. Performing an Azure AD Join
14. Planning for Device Intune Enrollment
15. Performing Intune Device Enrollment
16. Intune Inventory
Part 1 of MD-101
Remember, there is Part 1 of MD-101 available here:
https://www.cbtnuggets.com/it-training/microsoft-windows-10-deploy-update-operating-systems-md-101
For details regarding this part of MD-101, visit this post:
MD-100 is Complete
MD-100 is complete and can be found here:
https://www.cbtnuggets.com/certification-playlist/Microsoft/5cb908479d9881120048bf86
I will have the final two parts of MD-101 done this month! Enjoy!