Hello Cloud and ACI, goodbye ACE and WAAS. That's right, last week Cisco announced the version 2.0 of the CCIE Data Center. The new version takes effect July 25, 2016.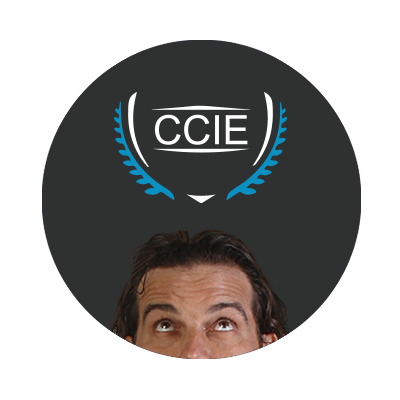 I will list the hardware and new topics for this Lab Exam, but please keep in mind that the exam format has also changed. There is now a 1 hour diagnostic section with no device access, and a 7 hour configuration and troubleshooting section where you will have plenty of hardware and software to fiddle with. You need to hit a minimum cut score in BOTH of these sections in order to pass.
Here are the lab exam topics. Keep in mind these are also the written exam topics as well, but the written exam also includes the Evolving Technologies section that I blogged about here in CCIE General.
1.0 Cisco Data Center L2/L3 Technologies
1.1 Design Implement and Troubleshoot Complex Layer 2 Technologies
• 1.1.a Design, Implement and Troubleshoot Highly Available and redundant topologies for example vPC, fabricpath, STP
• 1.1.b Design, Implement and Troubleshoot Data Center Layer 2 overlays for example VXLAN, OTV, EVPN
• 1.1.c Design, Implement and Troubleshoot Network management protocols for example PTP, NTP, DNS, DHCP
• 1.1.d Design, Implement and Troubleshoot Traffic management for example queuing, policing, shaping
• 1.1.e Design, Implement and Troubleshoot layer 2 security features for example port security, MACsec, ACL, private vlans
1.2 Design, Implement and Troubleshoot Complex Layer 3 Technologies
• 1.2.a Design, Implement and Troubleshoot Routing Protocols and features for example OSPF, ISIS, MBGP, IBGP, PBR, BFD
• 1.2.b Design, Implement and Troubleshoot Layer 3 Overlay Protocols for example OTV, LISP
• 1.2.c Design, Implement and Troubleshoot Multicast protocols for example PIM, IGMP, RP, BSR
• 1.2.d Design, Implement and Troubleshoot layer 3 security features for example CoPP, ACL's, DAI, ip source guard
• 1.2.e Design, Implement and Troubleshoot Monitoring services for example Netflow
1.3 Design, Implement and Troubleshoot External Fabric Connectivity
• 1.3.a Design, Implement and Troubleshoot policy driven External Fabric Connectivity for example L2/L3 connectivity
2.0 Cisco Data Center Network Services
2.1 Design, Implement and Troubleshoot Service Insertion and Redirection
• 2.1.a Design, Implement and Troubleshoot Service Insertion and Redirection for example LB, vPATH, ITD, RISE
2.2 Design, Implement and Troubleshoot network services
• 2.2.a Design, Implement and Troubleshoot network services for example policy drivenL4-L7 services
3.0 Data Center Storage Networking and Compute
3.1 Configure and Troubleshoot Data Center Storage Protocols
• 3.1.a Describe, Configure and Troubleshoot infrastructure to support Block Storage Protocols for example FC, FCoE, iSCSI, DCB
• 3.1.b Configure and Troubleshoot infrastructure to support File Storage Protocols for example NFS, CIFS
3.2 Design, Implement and Troubleshoot Data Center Storage Networking Features
• 3.2.a Design, Implement and Troubleshoot Data Center Storage Networking Features for example zoning, multihop technologies
3.3 Implement and Troubleshoot Compute resources
• 3.3.a Implement and Troubleshoot Compute policies and pools for example SAN/LAN policies, boot policies, profiles
• 3.3.b Analyze and Troubleshoot Compute resources using tools such as UCS Central, UCSM
3.4 Design, Implement and Troubleshoot Data Center Compute Connectivity
• 3.4.a Design, Implement and Troubleshoot Data Center Compute Connectivity for example SAN/LAN uplinks, rack server integration, fabric ports, appliance    ports
3.5 Design, Implement and Troubleshoot Virtual and Physical End Point Connectivity
• 3.5.a Design, Implement and Troubleshoot Virtual and Physical End Point Connectivity
4.0 Data Center Automation and Orchestration
4.1 Implement and Troubleshoot Data Center Automation
• 4.1.a Implement and Troubleshoot Data Center Automation using methods such as REST API implemented by scripting languages including Python
4.2 Implement and Troubleshoot Data Center Orchestration Tools
• 4.2.a Implement and Troubleshoot Data Center Orchestration using Tools such as UCSD, UCS Central, CPO
4.3 Integrate Cisco Cloud offerings into existing Data Center infrastructure
• 4.3.a Describe and Integrate Cisco Cloud technologies into existing Data Center infrastructure using solutions such as Cisco ONE Enterprise cloud Suite
5.0 Data Center Fabric Infrastructure
5.1 Design, Implement and Troubleshoot policy and non-policy driven Internal Fabric Connectivity
• 5.1.a Design, Implement and Troubleshoot policy and non-policy driven Internal Fabric connectivity for example ECMP,ISIS, inband mgmt, VXLAN
5.2 Design, Implement and Troubleshoot Infrastructure policies and elements
• 5.2.a Design, Implement and Troubleshoot policy driven Infrastructure for example interface policies, MGMT policies
• 5.2.b Configure and Troubleshoot physical infrastructure components for example controllers, switches
• 5.2.c Analyze and Troubleshoot logical infrastructure elements using health indicators
Here is your new hardware and software list. This is just in time for your holiday shopping list:
Lab Equipment
APIC Cluster
Nexus 9336 ACI Spine
Nexus 9372
Nexus 7004

Sup2E
48 Port 10Gb (F3 Module)

Nexus 5672
Nexus 2348
Nexus 1000v
UCS C220 M4 Series Rack Server
UCS-6248 Fabric Interconnects
UCS-4308 M-Series Chassis

UCS M142 Compute Cartridge

UCS-5108 B-Series Chassis

B-200 M4 Series Blades
Palo mezzanine card
VIC 1340 Card for B-Series

Dual Attached JBOD
Cisco Catalyst Switch 3750
Cisco 2911/K9 Terminal Server
Software
NXOS v7.x on Nexus 7000 Switches
NXOS v7.x on Nexus 5000 Switches
NXOS v7.x on Nexus 9000 Switches
NXOS v5.x on Nexus 1000v
UCS Software Release 2.x Fabric Interconnect
Cisco Data Center Manager Software v7.x