Here is your chance to participate in the report for AWS professionals, by AWS professionals. Packed with over 40 pages of insights, stats, and commentary, the Jefferson Frank Salary Survey is the ultimate guide for anyone working with Amazon Web Services products.
If you're an employer or hiring manager, use the report to benchmark your team's salaries and set budgets for the next financial year. If you're a professional working in the AWS environment, we'll tell you how much you should be earning, what certifications and technical skills you need to succeed, and much more. Click here to download last year's survey.
To participate in the latest survey – click here!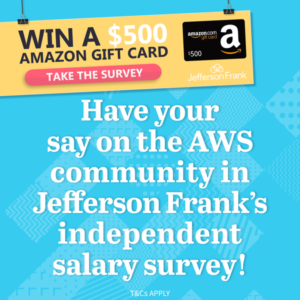 Need to get started with AWS? No problem – use my latest book below to begin your AWS journey and earn your first AWS Certification: