I have been running this new Windows 10 update now for several weeks on several different systems and no major problems to report, other than a TeamViewer reinstallation as a result of the update (most likely).
What is new in this Windows 10 Fall Creators Update? Here you go:
Got a VR headset and a compatible Windows system? Windows Mixed Reality arrives in Windows 10 with this update.
The Windows Photos app gets new features to catch up with Apple. Easily bring photos together to create a video of that great summer trip.
The Mixed Reality Viewer allows you to see 3D objects mixed into your actual surroundings via your PCs camera. This works so well even on a modest device and is pretty fun. Pictured here is my very first try with it.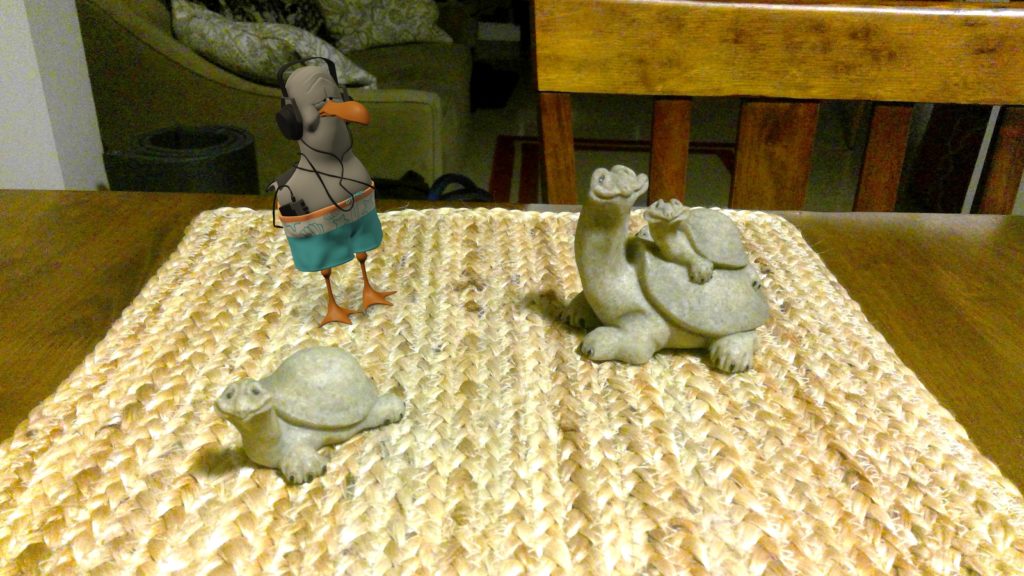 My People can now be pinned to the taskbar in order to quickly Skype or send e-mail.
Cortana can finally shut down your PC as well as sleep and restart of course.
Edge gets enhancements like book annotation, pin favorites to the taskbar, edit URL for Favorites, and full-screen mode.
The Windows Store is updated to unify with the Xbox version.
Security enhancements include better Ransomware protections.
Productivity enhancements include continuing on your PC from an iPhone or Android device, Microsoft Launcher for Android, OneDrive Files On-Demand, Find My Pen, and improved PDF viewing.
PC gaming enhancements arrive with GPU settings in Task Manager and more.
3D enhancements in Microsoft Office.
Do you have users that need basic Windows 10 training? Check out my Windows 10 End User Essentials course at CBT Nuggets. This course includes Hands-On Labs with a full copy of Windows 10 so they won't mess up your system! 🙂